Industry Enagagements
Lorem ipsum dolor sit amet, consectetur adipiscing elit, sed do eiusmod tempor incididunt
SGFIN team members are actively engaged in various initiatives and collaborations with industry partners in the sustainability frontier. Such engagements aim to bridge the chasm between finance and economic theories, pricing models, existing and forthcoming assessment frameworks, and practical business and financial needs from the industry.
SGFIN welcomes discussions with corporations, financial institutions, and other stakeholders to explore how we can work together (in the form of consultations, collaborations, and partnerships) to advance the green and sustainable finance sector in Singapore and in the region.
Some examples of our prior engagements:
Social Innovation Challenge 2021, October 2021 
In October 2021, Prof Weina Zhang (SGFIN Deputy Director) served as a judge in the Social Innovation Challenge 2021 along with Mr Ghislain Devouge, Senior Vice President of Consumer TIC from UL, Ms Sok Mei Wong, Vice President from UL ASEAN/ANZ, and Mr. Jochen Lorenz, Head of ASEAN Region of grow Innovation Hub, A Bosch Company. The finalist teams from NUS, NTU, SMU and INSEAD explored potential models for successful integration of the informal sector to tackle plastic waste / ocean-bound waste, address potential safety, labor, and human rights issues, and enhance community development.
As a part of the MBA Dean's Challenge, SIC is an annual event that aims to promote the understanding of sustainability, ethics, and impact-related issues to business school students by solving cases having a high impact. It also builds an ecosystem and fosters relationships among B-schools in Singapore and corporate partners​.
Video link of the SIC 2021:
https://www.youtube.com/watch?v=zmI4AqpYRN8
SGX-NUS Case Competition: Sustainability Challenge, March 2021 
In March 2021, Prof Weina Zhang (SGFIN Deputy Director) served as a judge for the SGX-NUS Case Competition 2021 along with other judges from DBS, SGX, and Carbon Care Asia.
The finalist student teams analyzed suitable carbon trading platforms for Asian firms, including Singaporean firms. The teams explored and discussed the rationale, challenges, opportunities, technologies, and the implementation details of the carbon trading platform. This competition is held in aiming for an official establishment of a carbon trading platform by SGX and local partners. The winning team was given the opportunity to implement the proposed idea along with an internship opportunity with SGX.
https://www.facebook.com/watch/?v=553974325053031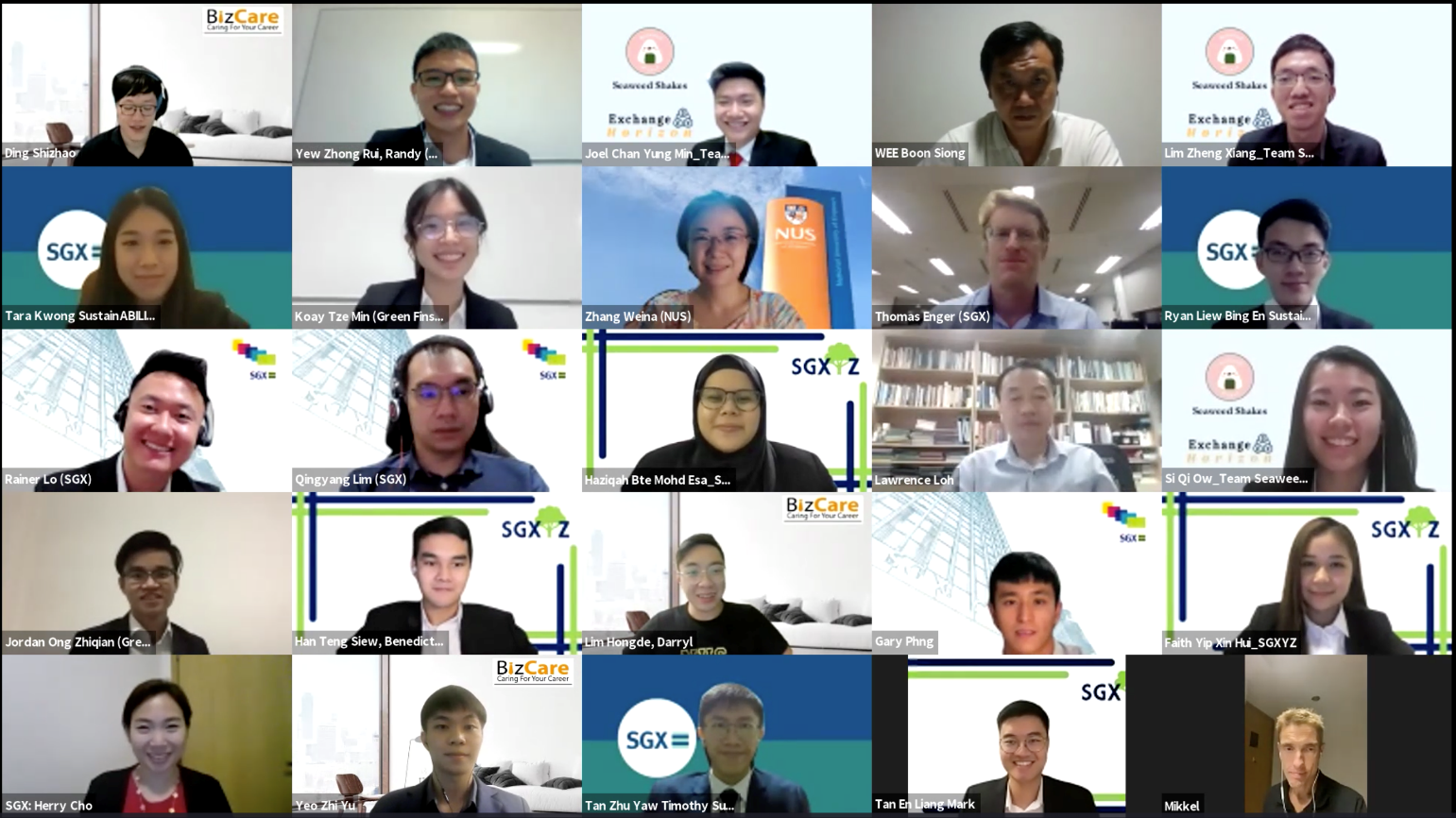 If you have keen interest to explore collaboration opportunities with SGFIN, please contact us at sgfin@nus.edu.sg.