In collaboration with NUS Business School, SGFIN is launching a Master of Science programme in Sustainable and Green Finance (MSc SGF). The inaugural cohort for the programme will commence in Aug 2022. The programme takes an organic approach to ensure the delivery of a strong curriculum. It supplements foundation and core modules in finance with elective modules on measuring environmental impacts of various industries and how the measures can be utilised for policy making and strategic business and corporate decisions, as well as confluence of technological developments and environmental / sustainable issues. It augments with experiential learning opportunities through potential participation in SGFIN's in-house research and industry projects.
Brown Bag Series: Filling the Gap of Green Finance Talents, 5 July 2022
Associate Professor Zhang Weina, the Academic Director of Msc in SGF was invited to speak at the Brown Bag series organized by Lifelong Learning Institute and HeadHunt on 05 July 2022 on the topic of Filling the Gap of Green Finance Talents. The Brown Bag series focuses on the Skills Demand for the Future Economy. Prof Weina shared the current landscape of green finance field, the dire need of various stakeholders to take concrete actions to adapt more quickly to a greener economy, and the urgency to nurture and equip green finance talents with the relevant knowledge and skills which are at the heart of the latest educational programmes offered by NUS.
Green to gold: Introducing the MSc in Sustainable and Green Finance at NUS Business School, 7 March 2022
Sustainable Singapore: Growing the next generation of sustainability professionals, MoneyFM, March 2, 2022
Training Experts in Sustainable and Green Finance, 15 February 2022
As global thinking shifts towards sustainable investing, there are significant opportunities for Singapore to reap the rewards of a greener economy. But there are still gaps in the picture. A key step in changing the green economy landscape is to nurture talents who can shape the future for better environmental and social outcomes, both in Singapore and beyond. Associate Professor Zhang Weina and the Director of MSc Programme Aaron would share more in the coming information sessions about the new master programme.
https://bizbeat.nus.edu.sg/community-news/article/training-experts-in-sustainable-and-green-finance/
Next information session will be held on April 18, 2022. Please register at the following links: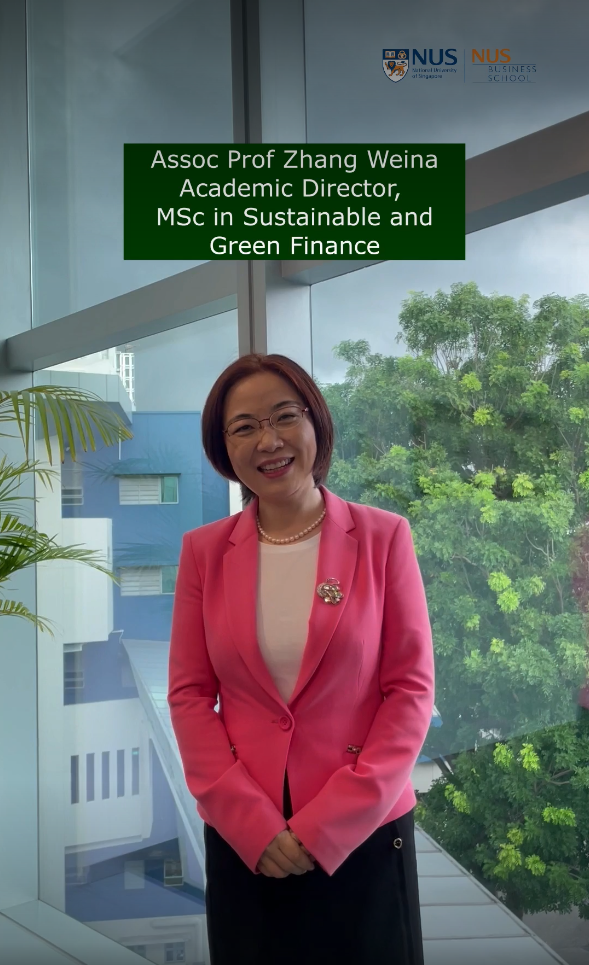 Associate Professor Zhang Weina, Academic Director of MSc in SGF shared the answers to common questions raised with respect to the new master programme. Specifically, she covered the rationale, curriculum design and experiential learning in the Programme itself.