In collaboration with the NUS Business School, SGFIN offers a Master of Science programme in Sustainable and Green Finance (MSc SGF).
This programme takes an organic approach to ensure the delivery of a strong curriculum. It supplements foundation and core modules in finance with elective modules on measuring environmental impacts of various industries and how the measures can be utilised for policy making and strategic business and corporate decisions, as well as confluence of technological developments and environmental / sustainable issues. It augments with experiential learning opportunities through potential participation in SGFIN's in-house research and industry projects.
The inaugural batch of MSc SGF students from the 2022 cohort will graduate this July while the 2023 cohort will embark on their learning journey from August 2023 onwards.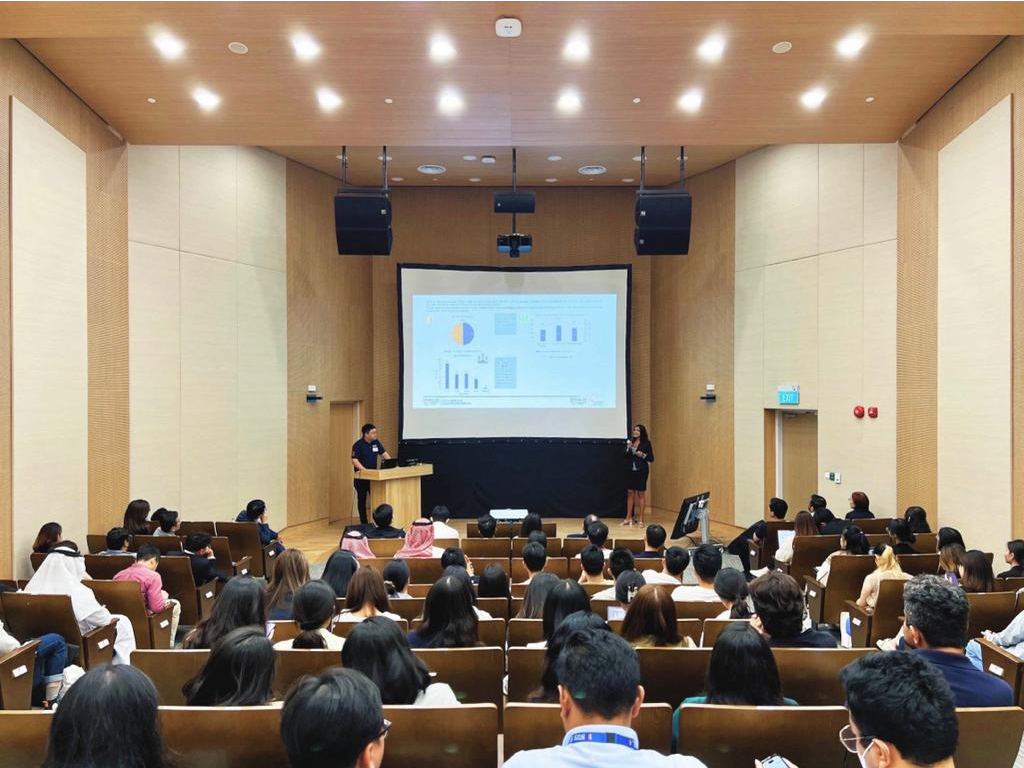 On 11 August 2023, we were delighted to host our inaugural Gallery Walk, for the MSc in Sustainable and Green Finance (MSc SGF) graduating students to showcase their Capstone Projects, in collaboration with various SGFIN industry partners.
Our Gallery Walk serves as a platform for exchanging market trends, fostering contextualized discussions and highlighting key focus areas in the sustainable and green finance field.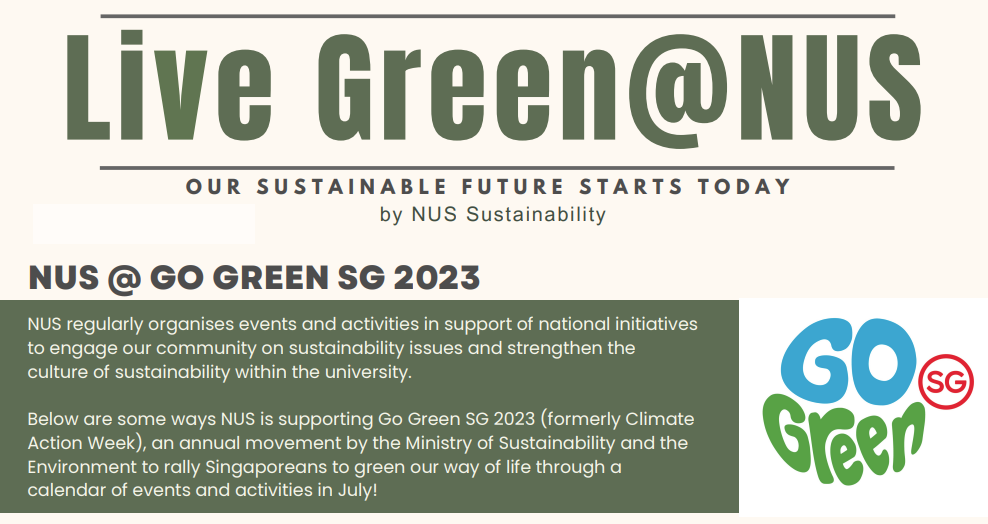 SGFIN Official Opening | 20 April 2023
At SGFIN official opening on 20 April 2023, the inaugural cohort of students from the Master of Science in Sustainable and Green Finance (MSc SGF) programme had the privilege of interacting with Deputy Prime Minister and Minister for Finance, Mr Lawrence Wong, together with NUS President, Mr Tan Eng Chye and the SGFIN Leadership Team – Professor Sumit Agarwal, Managing Director of SGFIN, Associate Professor Johan Sulaeman, Director of SGFIN and Associate Professor Zhang Weina, Deputy Director of SGFIN and Academic Director of MSc SGF programme.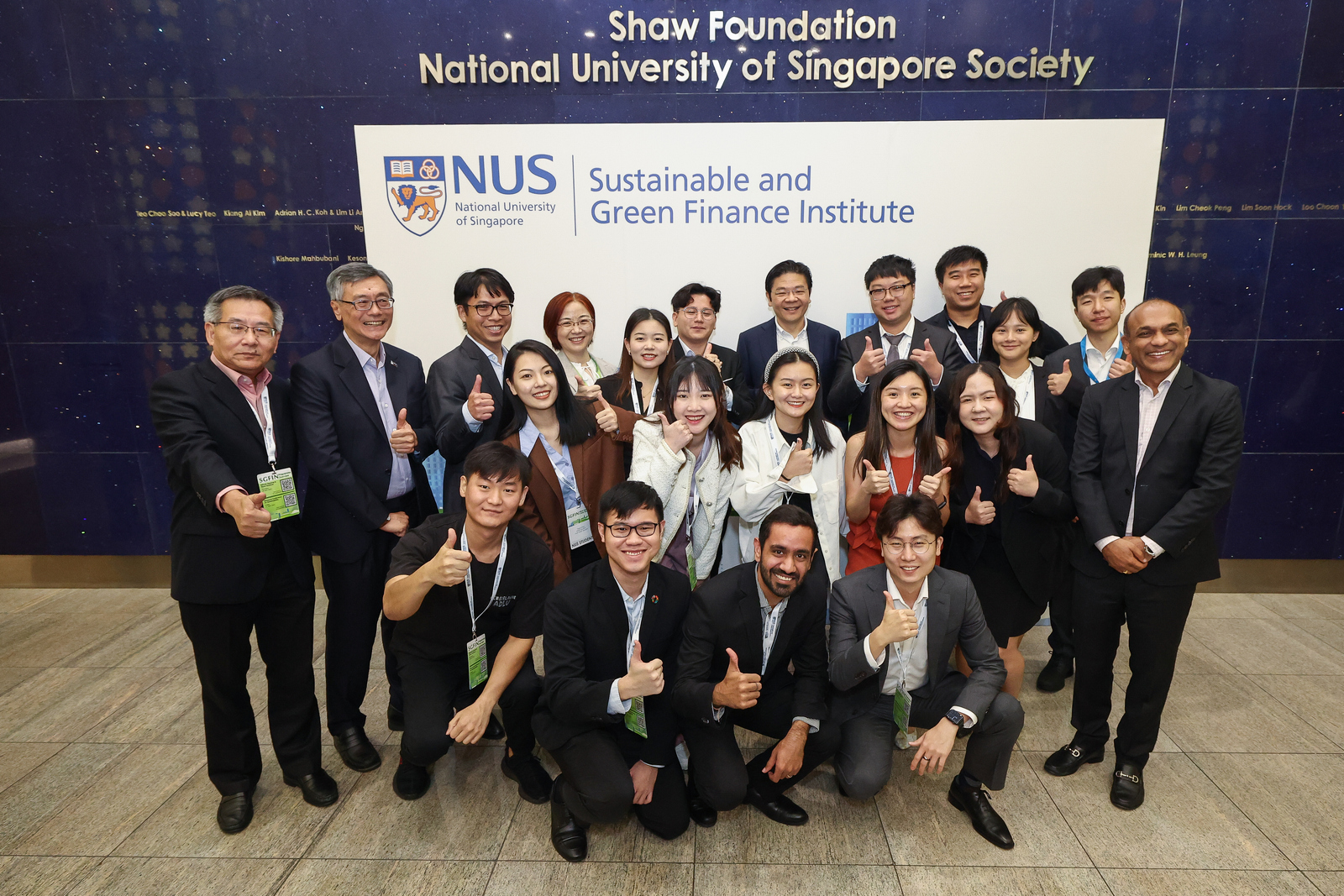 As SGFIN looks to grow the talent pool in sustainable finance in Singapore and beyond, new scholarships for the MSc SGF programme will be offered in collaboration with NUS Business School.
Ms Jorgina Chieng, who is part of the programme's first cohort that started in August 2022, shared, "What has impressed me the most about the programme are the opportunities to engage in practical work with real-life case studies and projects, specially designed to focus on the Asian and local context. Additionally, our professors are equally committed to the cause and very enthusiastic about helping us apply the principles that they taught. We have just started working on our capstone project with an external organisation to help them with a real-life sustainability problem, and I can already see the practical application of the theories and concepts learned in class.".
Brown Bag Series: Sustainability and Household Finance | 16 February 2023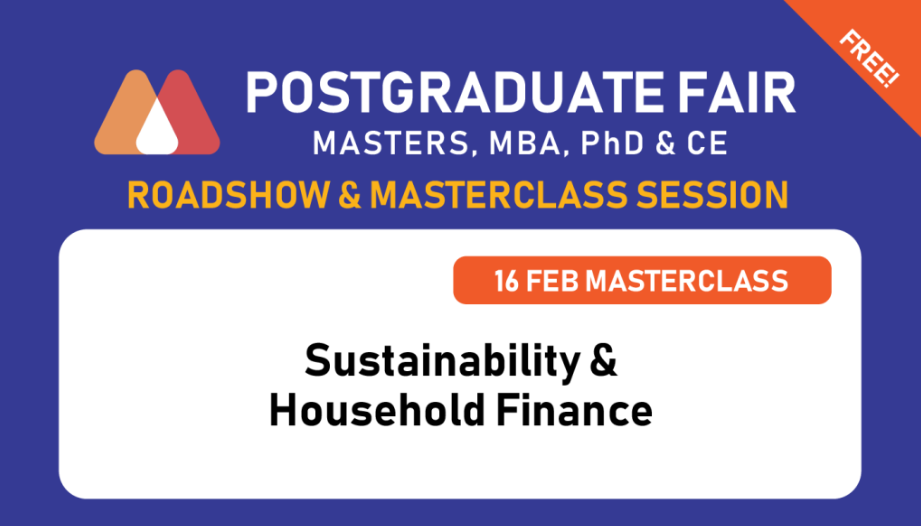 Professor Sumit Agarwal, the Managing Director of SGFIN, was invited to share on the topic of Sustainability and Household Finance at the Brown Bag series, as part of the HeadHunt Postgraduate Fair that was conducted at Capital Tower. Prof Sumit discussed household sustainability which he categorised into 3 key areas - environmental, financial and social sustainability. By adopting a bottom-up approach, he further emphasised the need to build an individual sustainable scorecard to urge individuals to do their part in reducing their carbon footprint, especially in terms of transportation and food consumption. Ultimately, consumers' preferences and demands serve as the main influencing factor for household sustainability.
Brown Bag Series: Filling the Gap of Green Finance Talents, 5 July 2022
Associate Professor Zhang Weina, the Academic Director of Msc SGF was invited to speak at the Brown Bag series organized by Lifelong Learning Institute and HeadHunt on 05 July 2022 on the topic of Filling the Gap of Green Finance Talents. The Brown Bag series focuses on the Skills Demand for the Future Economy. Prof Weina shared the current landscape of green finance field, the dire need of various stakeholders to take concrete actions to adapt more quickly to a greener economy, and the urgency to nurture and equip green finance talents with the relevant knowledge and skills which are at the heart of the latest educational programmes offered by NUS.
Green to gold: Introducing the MSc in Sustainable and Green Finance at NUS Business School, 7 March 2022
Sustainable Singapore: Growing the next generation of sustainability professionals, MoneyFM, March 2, 2022
Training Experts in Sustainable and Green Finance, 15 February 2022
As global thinking shifts towards sustainable investing, there are significant opportunities for Singapore to reap the rewards of a greener economy. But there are still gaps in the picture. A key step in changing the green economy landscape is to nurture talents who can shape the future for better environmental and social outcomes, both in Singapore and beyond. Associate Professor Zhang Weina and the Director of MSc Programme Aaron would share more in the coming information sessions about the new master programme.
https://bizbeat.nus.edu.sg/community-news/article/training-experts-in-sustainable-and-green-finance/